Getting a good nights sleep often depends on a number of things – comfort, stress, diet and environment, however, having the right mattress can be the greatest contributor to having a restful or restless nights sleep:
Some tell-tale signs that you may need to update your mattress are peaks, dips or lumps in the mattress or if you're simply uncomfortable when you hop into bed.  While it's recommended that you renew your mattress every 10 or so years, it's important to know that as we get older our body's needs change which may mean updating your mattress sooner.
Measure up
Whether you're moving into a new place or upgrading to a bigger mattress, it's important to measure the size of your bedroom.  Mattresses come in a range of sizes – single, king single, double, queen and king, and you want to make sure that once it's in your bedroom there's still space for all your other bedroom furniture.
Go in with a budget
A mattress is a long-term investment and getting a good nights sleep will set you up for a good day.  Be sure to let the sales person know your budget so they can help you find the best quality mattress within your price range.
Take your partner with you
If you share a bed, it's important that both you and your partner try before you buy.  What makes a good mattress is quite subjective and what is comfortable for you may not be comfortable for your partner.
Make comfort your goal
The most important consideration when shopping for a new mattress should always be personal comfort.  We spend far more time in bed than using any other household furniture so you should be putting in the time to make sure you've found the best mattress for you.  A good mattress will gently support your body in a neutral position and help keep you in alignment.  We recommend spending 10 minutes lying on each mattress in your normal sleeping position – even longer, no need to be shy. Make sure you and your partner try the mattress together as this will impact how it feels.
Consider allergens
If you have allergies that can interrupt your sleep, look for a hypoallergenic mattress or mattress cover to help alleviate some of this discomfort
Longevity
A mattress should bring you years of restful nights sleep.  All good mattresses will be backed by a quality guarantee so you can fall asleep knowing your mattress will give you the support and comfort you need for years to come.
Sleep well
Just as you might expect from a new pair of shoes, it may take some time for your body to adjust to the feel and support of your new mattress as it starts to conform to the shape of your body.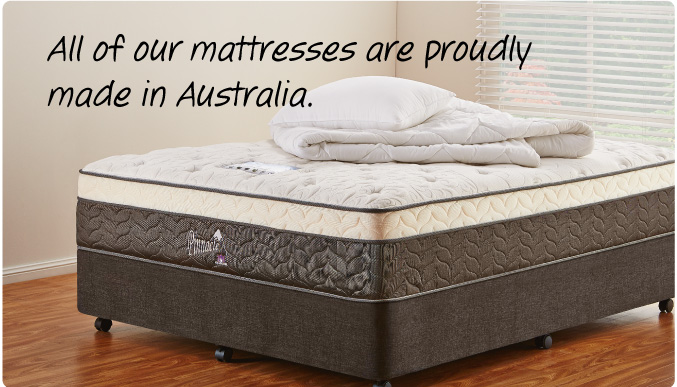 Five tips for a better nights sleep:
1. Stick to a schedule – Have regular bedtimes.
Just as you might expect from a new pair of shoes, it may take some time for your body to adjust to the feel and support of your new mattress as it starts to conform to the shape of your body.
2. Sleep time –  Get the right amount of shut eye.
Sleep requirements vary from person to person, but the average adult needs around 8 hours sleep each night.
3. Environment – The bedroom is for sleeping.
We know it's hard, but try to avoid looking at screens for at least an hour before bed.  Brightly lit TV, phone or tablet screens can suppress your melatonin levels (sleep promoting hormone), making it harder for you to fall asleep. Click here to read about creating the perfect bedroom.
4. Lifestyle – Say no to caffeine.
It may seem obvious to point out that caffeine before bed isn't a good idea, but did you know caffeine should be avoided for at least 4 hours before bed?  This includes any 'hidden' caffeine found in tea, soft drink or chocolate.
5. Comfort – The most important factor.
The most important factor.  You should be falling asleep on a good quality mattress that provides you with the support and comfort your body needs, in a quiet, dark room that's not too hot, the optimal room temperature for sleep is 18C.
Find the perfect mattress for you, view our range:
Cot Mattresses          Single Mattresses    King Single Mattresses